WHY ODOO TRAINING?
Firstly, being a user, developer, administrator etc, it is essential that to get a proper guidance for, performing each of the activity smoothly. Thus, proper Odoo training will help your business to implement new techniques.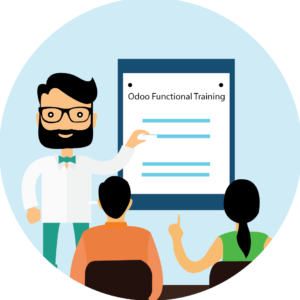 ODOO FUNCTIONAL TRAINING
The importance of Odoo functional training is that to enable clients to understand about Odoo. And, how Odoo works in different modules and gain speed and efficiency in the use of Odoo's integrated applications. Odoo functional training includes all the aspects of functional implementation and deployment of Odoo frameworks.
Odoo functional training gives an advanced knowledge in how to use ERP software for all the roles in an enterprise. Such as production, inventory management, marketing, sales, customer relations, human resource management etc. Functional Training is important to make the most out of your Odoo implementation and understand the advanced features in detail.
Odoo functional training helps to understand the complex Odoo configurations & generate test scripts for testing the configured scenarios and to coordinate with other Odoo consultants for integration requirements with third party applications. The functional training gives highly productive employees for an organization. These employees with advanced knowledge of each function in odoo can make the organizational processes effective and efficient. Moreover, it helps to increase growth of the organization.