About Zoho
Zoho is a business software solutions company with over 20 years of experience in business software development. Zoho began with its Zoho CRM platform in 2005 and has expanded to all different departments of business and enterprise. Zoho also offers an enterprise-level subscription called Zoho One. Zoho One has all 40+ of Zoho's apps bundled together to make for a connected "operating system for business." Zoho has over 50 million users in over 180 countries globally.
How they do it
The bread and butter of Zoho's operating system as a business is its CRM platform. When people think of a sale, they think of the Point of sale (POS). The POS is where the sale takes place but that is not where it starts nor where it is finalized. A sale typically starts with a lead and some advertisements and leads to the point of sale and in many cases multiple POSs.The difficult problem of CX platforms is making it usable and adaptable across diverse use cases. Adoption depends on a company's use case and Zoho wants to lower the barrier of technology adoption. Zoho One is scalable in its apps and services and needs to be personable based on the relationship between the customer and company's relationship. Companies can start with Zoho's CRM and implement its other apps and services over time. In the process of adopting Zoho's platform, Zoho's apps can be integrated with other apps like Gsuite.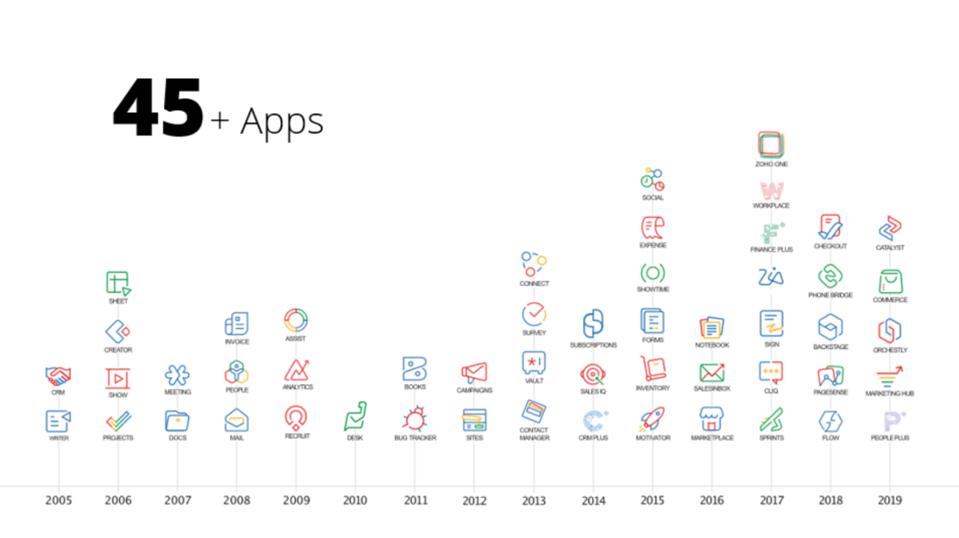 The sale and customer interaction in the sale are evolving. More and more customers are interacting with the pre-sale, sale, and post-sale so that customer experience is more than just the CRM and more than just customer service. All interactions of the sale need to be scalable. Zoho's solution is to make its software, specifically Zoho One, personable vertically as well as horizontally.
Competition
The difference between Zoho and other CRM platforms like Salesforce, Sugar, and Highrise is that Zoho's focus is on an operating system for business. Salesforces is a larger company and has over 2,600+ apps as well as its own business suite. Sugar CRM focuses on cloud innovations and information management. Highrise focuses on the relationship with the customer and the user. Zoho focuses on implementing all these features to create an all-in-one operating system for business.
Wrapping up
The difficulty of implementing software into an enterprise is connecting all the data without compromising a customer's personal experience. Zoho's success is its focus on scalability by unifying its CX platform horizontally and vertically means that more companies can be personal with their customers. Zoho has a plan for minimizing the adoption barrier of its operating system for business.
ANALYB your Local Zoho Partner
ANALYB team is helping clients optimize their business and sales processes, through an integrated consultative approach towards ZOHO Implementation across all the Zoho Application Suite from consulting, implementation and training